In this article, we describe several options for financing your home remodel and home improvement projects including specific remodel loan options. It is a summary and should not be construed as financial advice. We highly recommend that you schedule time with your financial advisor, banker, or credit union representative to discuss your specific home remodel and home improvement priorities. They will assist you in creating a plan that will help you accomplish your goals for your home.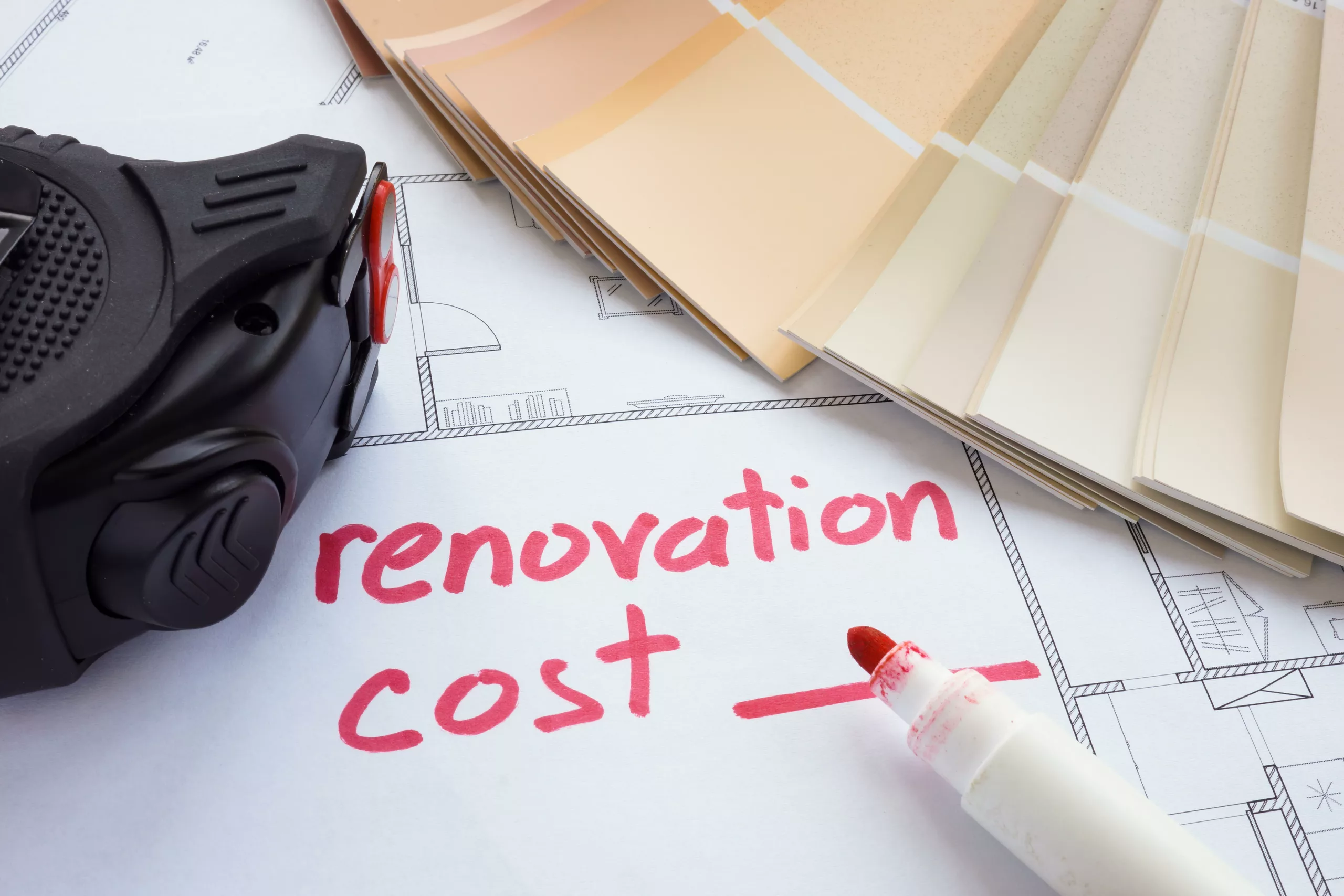 Out of Pocket
When you have money saved in a savings account, you can use those funds for your projects without paying interest. This option works best when the costs of each project are clear. Projects that are covered this way often involve work that is unlikely to have unexpected expenses. An example of this type of uncomplicated project is building a fence or adding an outdoor structure such as a pergola in an area where the ground is flat, stable, and not known to flood. This method also works well when procuring new appliances such as a dishwasher, washer, dryer, water heater, or furnace. Some contractors may offer a discount when payment is made by check or debit card. For this and all the following options, most contractors will require half of the payment upfront and half when the work is completed. This allows them to secure the necessary materials for the work.
Stocks/Bonds
You could liquidate some of your stocks/bonds to finance your home remodel and home improvement projects. However, this would result in the need to pay capital gains tax for the amounts liquidated.
Credit Card
This option can be considered when it is highly likely that you will be able to pay off the amount of the project before interest is due (typically within 30 days). People often consider this option when they will be receiving money soon. For example, you might choose to pay for your home improvements with a credit card when an income tax return has indicated that you will be receiving an adequate sum of money back from the IRS by a specific date. Many home improvement companies, contractors, or skilled laborers will have a credit card processing fee to partially cover their costs for accepting credit card payments.
Home Equity Loan
A home equity loan is also referred to as a second mortgage. Most lenders require at least 20% equity in the home before a second mortgage can be considered. This option takes from two to four weeks to process and involves the same steps as those for your initial residential mortgage. Your income, combined loan to value ratio (CLTV), payment history, and credit score are used to determine the loan amount and interest rate. Most home equity loans have a defined term and fixed interest rate throughout the life of the loan. If you have both a first and second mortgage you must pay off both the first and the second mortgage in any subsequent refinance.
Cash-out Mortgage Refinance
When home mortgage loan rates are lower than the mortgage rate you have and you have a good level of equity in your home, a mortgage refinance can be a good way to bring your loan rate down while receiving additional funds to cover a larger expense, such as a room addition or full kitchen remodel. Typically, a home inspection (appraisal) is required to assess the current value of the home before a refinance is approved. Interest is due on the full refinanced amount within a set period of time whether or not you use the additional funds for a home remodel or home improvements. However, this option may not work for financing a project that is needed to remedy a problem. For example, a mortgage refinance might not work to receive funds to repair a foundation problem or to replace a leaking roof because those problems could cause the appraised value of the home to be lower than is needed to qualify for the refinance.
Line of Credit
This option requires opening a line of credit account with your bank or credit union before you choose to draw funds from the account. Most lines of credit require a minimum payment on both the interest and the principal once a month. To save interest and reduce the payback time, it is best to pay more than the minimum payments each month. Having an account like this is helpful for addressing unforeseen issues. For events that will be covered by insurance, it can be a way to get the work done before funds become available from the insurance provider.
Home Equity Line of Credit (HELOC)
This special type of line of credit can only be used for improving a home through home remodels, new home appliances, and home improvement projects. Because your home is used for securing the line, you will need at least 30% equity in your home to be eligible for the HELOC. If you are eligible, the rate is considerably lower than the rate for a personal loan or credit card. Like a line of credit, the account needs to be established and ready in advance before funds are needed. Once approved, the funds will show in the HELOC account as available. Most HELOCs are established with a 10-year draw period. This means that up to the total sum of the line of credit may be used within those ten years. Partial amounts of the total can be taken at any time. The specific terms of the HELOC will spell out how many total times funds can be disbursed as partial amounts. For example, the loan may be set up to be taken in up to five different amounts over the 10-year period. You only pay interest on each amount you have taken out (the amount that has been advanced to you). The rate of interest for each disbursement will be the rate that is calculated at the time that disbursement is taken. It is possible to have a different rate for each disbursed amount because the rates are variable. The full amount of the HELOC does not have to be used. Any unused funds can remain available in the account for the full period and would not accrue interest. Any funds that are not used by the 10-year end date will become unavailable. The required monthly payments are usually only on the interest. You can borrow on the principal and pay back as you wish. You can use it for multiple projects throughout the life of the line. The interest amounts are typically tax deductible. Your tax specialist can advise you on this.

Rehab Loan
A rehab loan is a way to finance repairs and upgrades to a home at the time of a refinance or purchase. It is a program that works for a home that is not currently in lendable condition (a home that would not secure a favorable appraisal and would otherwise be a full cash payment option). The loan is based on the future anticipated value of the home after remodeling. All the work that will be paid using the loan must be under the direction of one general contractor. Therefore, unlike HELOC, you cannot use different contractors for different projects or different phases of a large project. For the purchase of a home, this can be a great way to finance upgrades versus making a down payment and having to also find a way to pay for upgrades. This type of loan takes longer to process because it requires a bid from the contractor with a complete documented cost breakdown and all permits in hand before the loan process can be started. Typically, closing is scheduled out 60 days so that there is 30 days for the borrowers to get all the documentation from their contractor of choice and 30 days for the bank to process and close. Depending on the specific terms, the homeowner may control the schedule for disbursement of funds to the contractor or the bank may pay out the funds to the contractor based on completion percentages.

401K Loan
If none of the above options work well for you, you could consider a loan against your 401K. The factors to consider when choosing this option are the interest rate and the project timeline. You want to be confident in your ability to pay this loan off as soon as possible and in the fact that, if you were to lose your job, you wouldn't have to pay it all back on the day of your severance.
Multiple Options
We hope that this summary helps you identify the options you will want to discuss with your financial advisor or banker. As you investigate this further, you may find that a combination of these options will work for you. For example, if you want to do a big remodel, you may first want to use funds from an existing savings account and a standard line of credit to remedy any issues that would impede securing the highest possible appraisal value before using a mortgage refinance or HELOC options for the remodel work.
As your Personal Home Contractor, we are available to answer any questions you may have about your current home improvement priorities.