Remodeling is a team effort, and now that we're officially "teammates" on your remodeling project, we thought it would be helpful to everyone involved to have a clear understanding of their roles, responsibilities, and of the remodeling process. We have no intention of becoming a permanent houseguest in your home!

While you have read our contract, we would like to confirm some of the high points and how they will be handled.

Dust – just about everything that we do will generate dust. Every effort will be made to contain the dust. 100% containment is impossible. We recommend you change your furnace filter often. We will cover cold air returns and floor vents with vent filters. Please remove any family heirlooms or prized possessions within the remodel area and pathways. Be sure to think about wall hangings, artwork, and pictures in areas that are next to the remodel area.

Dust protection is a project phase we specify and include, if required, in our projects. Types of protection may include carpet mask, craft paper, hardboard, zipper door, plastic on walls, temporary walls/access and so on. If you are sensitive and require additional protective measures (i.e. Hepa filters, etc.) from the ones specified, please let us know and we will create a specialized plan to accommodate your needs. If you need our dust protection removed prior to job completion, we will be happy to accommodate you and we will work out the details in a written work order.

Hours of Work – Typically 8:00 AM to 4:00 PM, Monday through Friday, unless other arrangements are made. The presence of a lead carpenter is dictated by the schedule and workload on your job.
Work Orders – Often for various reasons, homeowners decide to make changes in the scope of work. This process is easily handled by using the Time and Material billing method so the flow of work and schedule of the job is not delayed. The Lead Carpenter and the Project Coordinator will keep a list of the changes, and if a change is substantial, a written Work Order will be required before start of the additional work. We keep track of all the Work Orders so you can remember how the scope of work transformed from our initial project review. Oftentimes, changes are small and seem inconsequential, but small changes can add up, and this prevents any surprises for the homeowner at the end of the project. Please be advised that any change may interrupt the scheduled work and will result in a delay.
Billing – We will email you an itemized bill every Thursday and payment is due in our office within five days. Payment in full is expected on receipt of each invoice. The deposit you made will be deducted from the final payment.
Weekly Meetings – For longer projects, we will establish a weekly site meeting time for the duration of the job. You, the Lead Carpenter and Project Coordinator will be present at the meetings. This is the time to bring up any questions or concerns you might have about the progress of the job. We expect this meeting will take 30 to 45 minutes of time, which has been allotted in the estimate. Certain decisions will be required from time to time, and we will request a finalized decision by a specific dates indicated at our weekly meeting. Your cooperation in making timely decisions will affect our ability to remain on schedule.
Access – We prefer to keep a key in a lock box on an accessible door. We will provide and maintain one lockbox onsite. This way the key does not leave the job, and if the lead carpenter happens to be away from the job, another SHP representative can meet subcontractors. This is usually the door through which everyone will enter and exit.
Lunch & Breaks – Our carpenters will take a ½ hour lunch break in the afternoon, and two 10 minute breaks - one in the morning and one in the afternoon.
Restroom – A restroom should be designated to be available to the workers, therefore a portable toilet will be set up at a suitable location established between SHP and the homeowner. If you determine that we can use an existing bathroom in the residence to save costs, we will set ground rules for using your bathroom.
Clean up – It is our intention to leave your job in a "broom clean" condition at the end of each day. Maid cleaning, carpet cleaning and window washing are optional items that are available at an additional cost.
Schedule – At the start of the project, you will be provided with a schedule, which will track the progress of your job. This schedule may flex as the project moves on and will be updated by the Lead Carpenter and Project Coordinator.
Subcontractors – Subcontractors are an important part of your job. They, like materials, need to be scheduled well in advance, and their schedule can be affected by outside events. Since subcontractors are not staff employees at SHP, we are not able to exercise as much control as we would like. If at any time you have any concerns or problems with a subcontractor, please inform your Lead Carpenter.
Delays – Expect a few delays. They come from many sources, all unexpected. Some are due to suppliers (backorders, truckers on strike, etc.), some are owner generated (changes to the scope, additional materials on order, etc.), and some are due to unforeseen conditions in the remodel area (finding rot, additional demo needed, defective construction, plumbing, wiring, etc.). We do everything we can to keep delays to a minimum, but it helps if you understand delays cannot be eliminated.
Children & Pets – A construction site could pose various dangers to children, and a remodeling project can be a trying experience for pets. We request that children not be allowed on the site, especially during work hours. If it is necessary that they be around the work area, they will need to be closely supervised by family members. We will accommodate your pet as best as possible. Please inform us what to do if your pet "gets out" and of any gates or doors that need to be kept closed.
Parking & Neighbors – A designated area for SHP employees to park should accommodate both the homeowner and SHP. Please let us know if there are any specific concerns in regards to your neighbors during the remodeling process. It is understood that the owner is to cover costs for paid parking.
Preparing for Your Job – We will gladly move larger items (refrigerator, stove, etc.) to a designated area in your house. We ask that you clean out all cabinets, artwork and small items affected by the work.
Trash Disposal – We will either set a dumpster, or establish a trash pile for regular pick-up by our own dump truck. A suitable area for trash (a dumpster) should be established.
Landscaping – During the normal course of construction, damage to the driveway, curbs, sidewalks, patio, adjoining plantings and sod may be beyond the control of the contractors. The contractors is not responsible for this damage, but will make every effort to avoid or minimize such damage.
Material Storage – An area should be selected to store salvaged and new materials delivered. This may or may not need to be covered and protected from weather.
Communication – Jobs run smoothest when all communications are funneled through the Lead Carpenter, including conversations regarding a subcontractor. Subcontractors take instructions best from them, and it keeps information in the proper channels. The written word will have preference over the spoken word. To ensure your satisfaction, please put all requests for changes and variations in writing. A job notebook will be provided and placed in a location mutually convenient for you and the Lead Carpenter. This notebook is an important tool for communicating with your Lead Carpenter and Project Coordinator – as it provides written documentation to discussions and decisions.
Yard Signs – We would like your permission to set one of our signs in your yard. This sign not only helps our company generate business, but it also gives your neighbors our phone number in case they have any problems or concerns regarding our activity in the neighborhood. This sign also serves as a marker for material deliveries and subcontractors.
Pictures – It is our intention to take pictures of each project prior to the start of the jobs, during construction and at its conclusion. If this practice is acceptable with you, we will take our "Before" pictures as soon as possible. Upon completion of the project, the office will schedule a time with you for "After" pictures. With your permission, your pictures may show up on our website. Your name and address will not appear in our marketing materials without your permission.
Final Walk Through – At the conclusion of the remodeling project, the contractor and homeowner will perform a Final Walk Through to inspect the work and review any scope that needs rework. A list will be created covering the items discussed during the Final Walk Through, once all items are reconciled, a warranty letter will be issued starting the 12 month period of warranty coverage. Please contact us in writing to schedule a time to address any warranty items before the warranty period expires.
Move Out / Stay In – On a larger remodeling project, SHP highly recommends the homeowners move out and find suitable temporary living quarters away from the work site. If you have chosen to remain in your home during a large remodel, please be ready for a good amount of inconvenience and hardship. The jobsite dust, noise and loss of utilities will wear on your family members and you. It will be especially hard if there are young children, seniors or pets in the home. The "lows" that you will experience during construction will likely be much more intense if you are living inside the construction zone. The construction schedule will also suffer if certain parts of the project cannot be completed simultaneously.
Remodeling Fever – The term coined for the natural pattern of customer emotions during a typical remodeling project.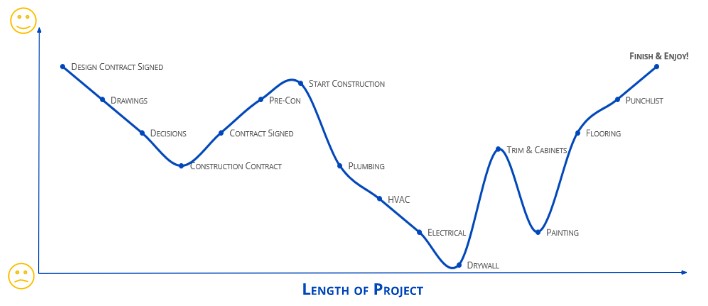 Preventing Remodeling Fever – Remember that your home will soon become a worksite. We will work hard to respect your privacy and help minimize any inconvenience. Nonetheless, the train-station atmosphere may lead to remodeling fever. You may feel a loss of control because of disrupted routines and the impact on your personal space. Here are some tips to help prevent you from catching the Remodeling Fever:

Prepare for inconvenience, and prepare well. Be sure to set aside a room in your home where you can escape from the chaos and commotion. 

Maintain a sense of humor. You may need it when the weather refuses to cooperate, or a vendor postpones the delivery date for materials. 

Enjoy the remodeling process. Tell the children you are "Camping-In" and turn inconvenience into fun. Along the way, celebrate at completion of phases of the project. For example, when drywall is finished, order in your favorite takeout meal. With patience, consistent communication, and careful preparation, the process will go smoothly and you can enjoy the result for years. There is a light at the end of the tunnel!
Shirey Home Pro is committed to providing our clients with the best possible remodeling services available. The remodeling process can be a difficult time for anyone to experience. If at any time you are not happy with something,
please tell us
, and we will do our best to address every issue that you have. Sometimes, the process feels like it will never end. This is called Remodeling Fever and is not fatal! Please call the office when that happens so we can talk. Open communication is the best way to keep a project on track and running smoothly. Our business relies on referrals and your continued satisfaction is paramount to us.
We look forward to successfully completing your project.