This September, my wife and I were fortunate to be treated to a few days in Spain to tour one of the most impressive manufacturing plants, Cosentino. They produce Dekton, Silestone, and Sensa, all solid surface products for countertops, and much more.

Located in Almeria, Spain, this 493+ acre facility is so expansive that pictures don't do it justice. It's like combining Amazon, Microsoft, and Google all into one.

Cosentino is a high-tech, high-production company with massive storage, worldwide shipping, and many automated processes. They are family-owned, which was really made evident by everyone we met. Additionally, they focus on sustainability by recapturing 99% of their water and running a massive solar panel farm. Their carbon footprint is near zero, including transportation from Spain to their product's final destinations worldwide.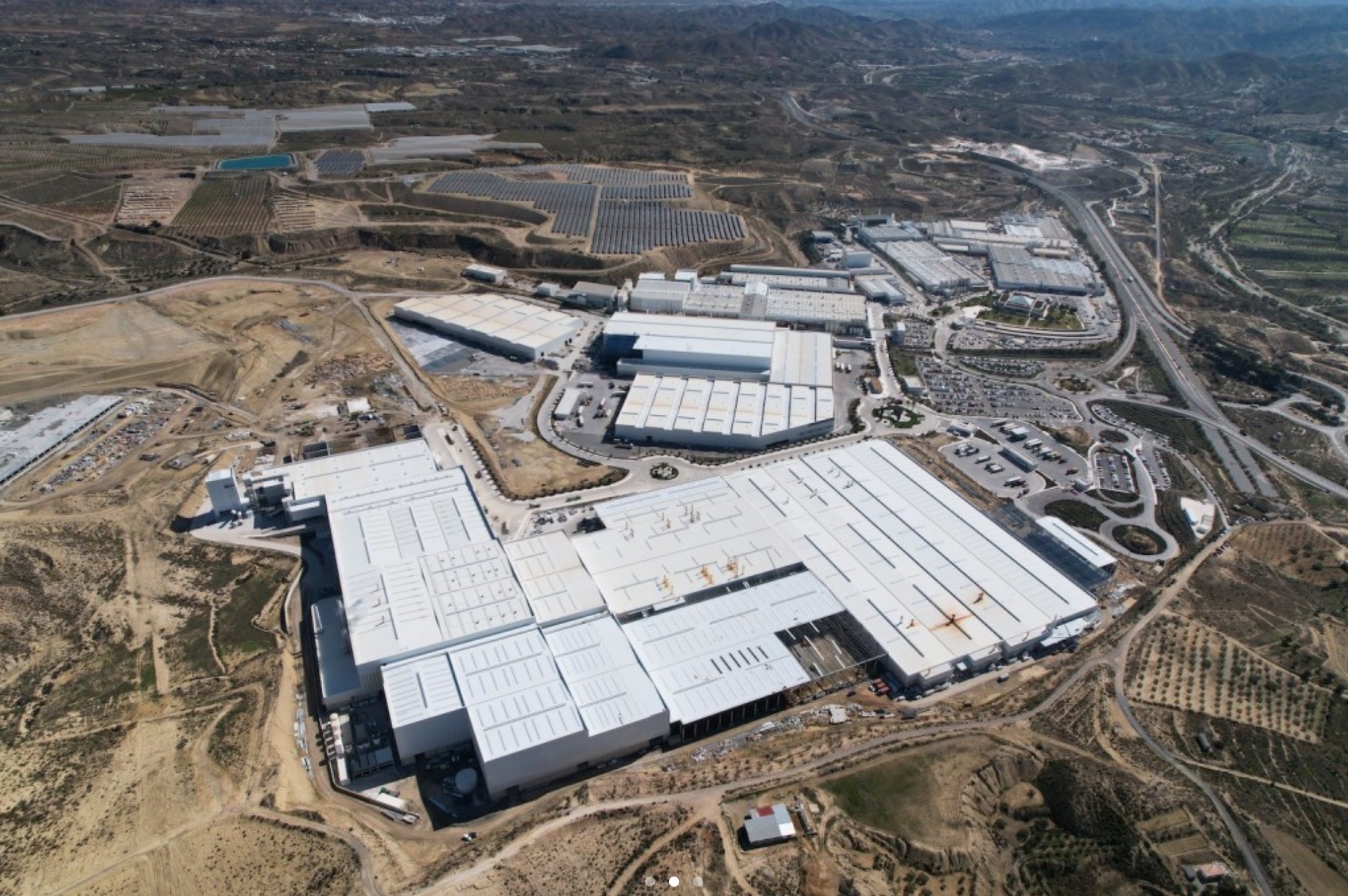 Visit their website
to find more information about their facility. Many of their creative processes for making their products are considered trade secrets and are hidden from view during their tours. A few things logistically stood out. One was the pit they dug to store all the cuttings and slurry from making the slabs that they then recycled into new ones. They line it so that nothing can leak into the groundwater, and it is large enough to fit 3-4 Lumen Fields inside.
One of the buildings has a robotic storage system that is five stories high and hundreds of feet deep. Their automated system pulls the materials, builds the A-frames, prepares them for shipping, and loads them onto a semi-truck in an amazing 10 minutes. Adding to the impressive facility was the polishing/finishing and quality control facility.
Cosentino runs 24 hours a day. Trucks constantly bring in the raw materials and leave with the finished products. They have their own buses and encourage carpooling to reduce their carbon footprint. They have on-site medical care that helps their employees stay healthy. Cosentino is also making plans to add housing. These efforts are all to reduce gas usage.
Silestone and Dekton
Quartz is now fairly common in our market. The quartz product comprises real and natural stone, other materials, and a binder/resin to create a slab typically 2cm or 3cm thick. Cosentino Silestone is a quartz product. There are numerous quartz producers, all of which have their secret recipes. Quartz is a great product. You can read more about why Silestone, first created in 1991, is regarded as one of the best products on the Cosentino website.

What impressed me were Cosentino's integrated sinks, shower trays/pans, and colors.

Integrated sinks are seamless and can match the countertop or be a separate color. Sinks can be traditional undermounts and finished on the outside, which could be top-mounted vessel style.

Their shower trays/pans can be curbed or curbless, center or linear drain, and made to match the shower wall, eliminating most grout/caulking. The best aspect yet is their technologies for anti-slip.

Cosentino currently has 71 colors of Silestone available on their website. Some look like they came straight from the quarry, and others have cool and unique looks. Some of their latest styles have metal, which can be used to find matching cabinet knobs and pulls. Then, you can pick from their textures: polished, suede, matte, velvet, and more.
Dekton is, as Cosentino calls it, an "ultracompact stone," which makes more sense than calling it high-pressure porcelain. Porcelain sounds fragile, and Dekton is not. The Dekton materials are placed under 25,000 tons of uniform pressure, leaving no micro-defects. The process makes them solid and waterproof. Our Remodel Carpenters use it for both interior and exterior applications.

In the kitchen, we use Dekton in multiple ways: flooring, countertops, walls, or backsplashes. It comes in 4 thicknesses, 3 cm - .4 cm, so We've even seen it used for cabinet door fronts.

We use it in the bathroom for shower surround, pans, and sinks. These wouldn't be integrated sinks, but they're pretty cool. It's not that someone would want every flat surface to be Dekton, but knowing there are unlimited possibilities is nice.

The exterior uses are just as endless. Commercial buildings and hotels are using it for siding and outside walk areas. For use as siding, it would require a similar installation technique to what our carpenters do for rigid panels. I like that we can use Dekton in outdoor living spaces and barbecues.

We don't recommend using quartz for exterior work because sunlight causes damage. However, we recommend using Dekton in outdoor settings and can install it in and around pools and walkways, countertops, and cooking vent hoods.
Cosentino currently has at least 63 colors of Dekton on their website. There are colors with veins similar to natural stones. There are a couple of styles with some blue veins that are very unique in the market. They even have some special colors in their industrial collection with a patinaed metal or wood look. Then there are the different finishes similar to Silestone.

Thank you for allowing me to share a little about an excellent company with great people and top-of-the-line products. I encourage you to look at their products on their website because they're luxurious, deserve more attention, and provide a better description than I can provide. If you want to see, touch, and feel their products, Cosentino has a shower demonstrator in Kent and a brand-new showroom close to T-Mobile Park with free parking.

Thank you to Justin and his team for the fantastic hospitality and tour!

Jon